Wireless Charger PCBA Qi Wireless Charger Coil for Receiver with PCBA Qi Wireless Charger China Factory High Performance 
High Quality Manufacturer Customize Magnetic Tx/Rx Mobile Phone copper  Air Core Qi Wireless Charging coil.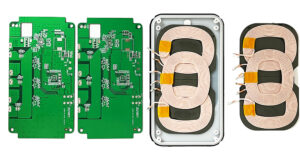 General Technical Deta:
| | |
| --- | --- |
| Product Type | Dia 20.5mm coil / TX-coil with Ferrite / TX-coil for wireless charger |
| Brand | Customized |
| Model | Customized |
| Coil Type | 10 circles, bilayer, bifilar |
| Coil OD | 43mm±0.5 or Customized |
| Coil ID | 20.5mm or Customized |
| Coil Thickness | 2.6mm (MAX) |
| Q value | >70 |
| Turns | Customized |
| Wire Dia | Φ0.08*105p |
| Material of Wire | silk-covered wire |
| Ferrite Size | 53*53*2.5 or 50*50*1 or 50*50*2.5mm or Customize |
| Inductance Value | 24UH±10% |
| Product Size | Customized |
| Weight | Customized |
| Package | Plastic Tray and Carton |
| Certification | RoHs / SGS / Unleaded / 3C |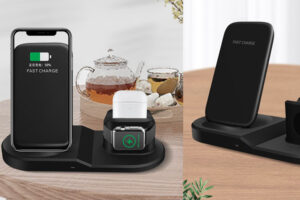 *All specifications can be customized.
Key Specifications/Special Features:
1. Winding with self-bonding wire
2. Winding different shapes as per your requirement
3. Meet your requirement inductance and resistance
4. Windings are bond by a strong adhesive
5. Meeting and compatible with Qi standard of WPC
6. More thin and more efficient
7. Litz wire winding
8. Ni-Mn ferrite material
9. For Tx applications working with 12V
10. Power Transfer Efficiency: 75%
11. Flexible sheet type is available
12. Dimension:  107.95 * 52.5 *4 mm
13. Net Weight: ≥ 5g
14. Storage temperature: -20°C- 85°C (-4°F- 185°F)
15. Operation temperature: -20°C- 105°C (-4°F- 221°F)
16. Output with multi-protection
17. Easy to install
18. Various structures meet customer specification
19. Customized sizes are welcome
Primary Advantage:
1. Professional manufacturer
2. High quality
3. Low price
4. Fast delivery
5. Good after-sale service
6. Qualified material and competative price
7. RoHS, SGS, CE certification
8. Small Orders Accepted
9. Ultra miniature size and light weight
10. OEM/ ODM available
Application:
Hearing aids, wireless charger coil, actuator, antenna, RF/ RFID, IC card, car ignition, slot machine, camera, voice, speaker, tracking items, solar consumers, toy, printer machine, car alarm, electronics components, electronic components assembly, motor, monitor system, charger, access control products, miniature plastic injection products.
What is an air core coil?
We'll use the term 'air core coil' to describe an inductor that does not depend upon a ferromagnetic material to achieve its specified inductance. This covers the cases where there really is just air inside as well as windings upon a different insulator such as bakelite, glass or PTFE etc.
Do you need an air coil?
What are the advantages of an air core coil?
Its inductance is unaffected by the current it carries. This contrasts with the situation with coils using ferromagnetic cores whose inductance tends to reach a peak at moderate field strengths before dropping towards zero as saturation approaches. Sometimes non-linearity in the magnetization curve can be tolerated; for example in switching converters. In circuits such as audio cross over networks in hi-fi speaker systems you must avoid distortion; then you need an air coil. Most radio transmitters rely on air coils to prevent the production of harmonics.
Air coils are also free of the 'iron losses' which affect ferromagnetic cores. As frequency is increased this advantage becomes progressively more important. You obtain better Q-factor, greater efficiency, greater power handling, and less distortion.
Lastly, air coils can be designed to perform at frequencies as high as 1 Ghz. Most ferromagnetic cores tend to be rather lossy above 100 MHz.
And the 'downside'?
Without a high permeability core you must have more and/or larger turns to achieve a given inductance value. More turns means larger coils, lower self-resonance and higher copper loss. At higher frequencies you generally don't need high inductance, so this is then less of a problem.
Greater stray field radiation and pickup. With the closed magnetic paths used in cored inductors radiation is much less serious. As the diameter increases towards a wavelength (lambda = c / f), loss due to electromagnetic radiation will become significant. Balanis has the gory details. You may be able to reduce this problem by enclosing the coil in a screen, or by mounting it at right angles to other coils it may be coupling with.You may be using an air cored coil not because you require a circuit element with a specific inductance per se but because your coil is used as a proximity sensor, loop antenna, induction heater, Tesla coil, electromagnet, magnetometer head or deflection yoke etc. Then an external field may be what you want.